The functional and features of the building automation system: the case of implemented projects
Lighting control
Lighting control envisages connection of all lighting fixtures via impulse relays and controllers. If dimming is required, dimmers are used instead of impulse relays. It enables lighting control from a smartphone/tablet and allows to implement various scenarios, such as turning all lights off in a room, turning all lights off in the house, turning on certain fixtures by pressing one switch, and so on.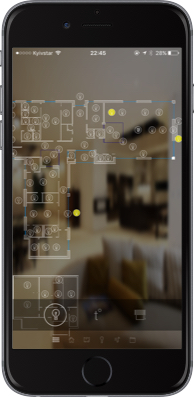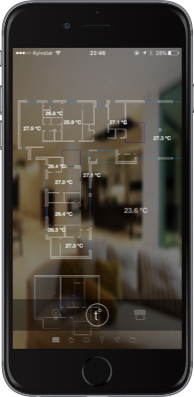 Climate control
It envisages control of the entire climatic equipment (fan coils, convectors, warm floor, radiators, ventilation, coolers, etc.). Temperature in a room can be set from a smartphone/tablet and maintained throughout. The parameter fixation method depends on equipment. Other scenarios, such as, for instance, lowering temperature inside the house in the event of long absence, are also possible.
The entire climatic equipment is connected into one system and functions in a synchronized mode according to a preset logic. For example, if comfortable temperature in a room can be achieved by warm floor only, convectors and fan coils won't turn on and temperature in radiators will be lowered.
Window blind / curtain / drape / window control
Window blinds / curtains / drapes / windows may be controlled both from a smartphone and using physical buttons. Control can be done according to a scenario, for example, closing all drapes in the evening or when leaving the house. Control can be also automated using sensors, for example, drawing down blinds in a swimming pool to block direct sunlight.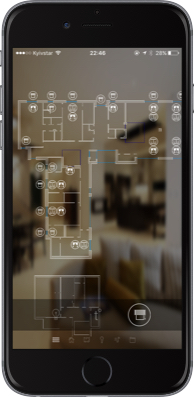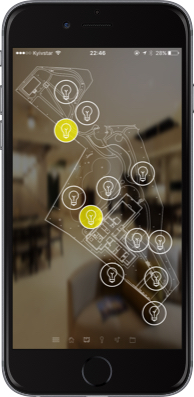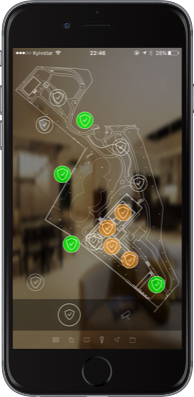 Integration with security system
Activating and deactivating security system in a building (or particular facilities). Sending alarm signals when sensors set off, integration with other systems.
Example: turning on street lights when a street movement sensor sets off.
Video surveillance
A video surveillance system is considered part of a security system, but the smart house envisages integration of this system. Displaying image on a smartphone/tablet. The entire video is continuously recorded on a register to enable its subsequent viewing.
Door phone / gate / entrance
Viewing video from the door phone, opening the entrance door, opening/closing the gate from a smartphone / tablet.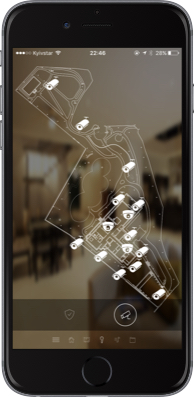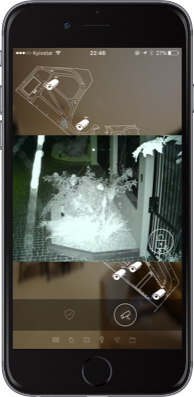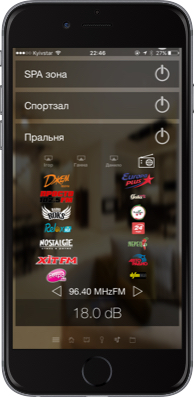 Multimedia system
Multimedia control depends on equipment type. Usually, it means controlling the home theater and acoustic systems in the house (built-in loudspeakers in the swimming pool, hamam room, kitchen, terrace, etc.).
Outdoor lighting control
The same functional as indoor lighting control, with the only difference of controlling particular outdoor lighting groups.
Scenarios
cenarios help reduce amount of routine work and perform multifunctional operations by pressing a single button (on a smartphone/tablet or a physical button).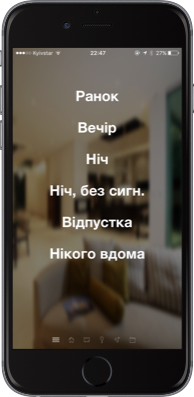 Example 1.

After leaving the house, you press one button to:
turn off the lights,
close the curtains,
turn off the music,
activate the house security system.
Example 2.

After waking up in the morning, you press one button to:
open the curtains,
turn on your favorite radio station in the room(s) you want,
ventilate the room(s) you want, etc.
Scenarios may be written and edited before or after you move in, when it becomes clear what operations you perform the most often and what exactly needs to be automated.
System of dispatching and monitoring of engineering systems
A dispatch system represents a hardware and software complex for remote control of engineering systems at one or several facilities. An automated dispatch control system (ADCS) is required to control engineering equipment scattered over a wide area or located in hard-to-access places. As a rule, dispatching function is included to the control system of multifunctional facilities with complex engineering infrastructure, such as office buildings, retail and entertainment centers, production complexes and other industrial enterprises.
A dispatch system may include the following subsystems:
power supply, gas supply;
heat and water supply, metering equipment;
security and fire alarm system, fire extinguishing and smoke removal systems;
ventilation and air conditioning;
video surveillance, access control;
elevators, and other systems.
The task of designing dispatch systems involves visualization of information regarding functioning of engineering systems and enabling the operator to directly control equipment from the dispatch room. Information regarding performance of engineering equipment is supplied by local automatics controllers, and fed to the server. The processed technological data, along with the necessary analytical information, is fed to the dispatch server and displayed on computer monitors at operator workplaces in a clear dynamic graphic form.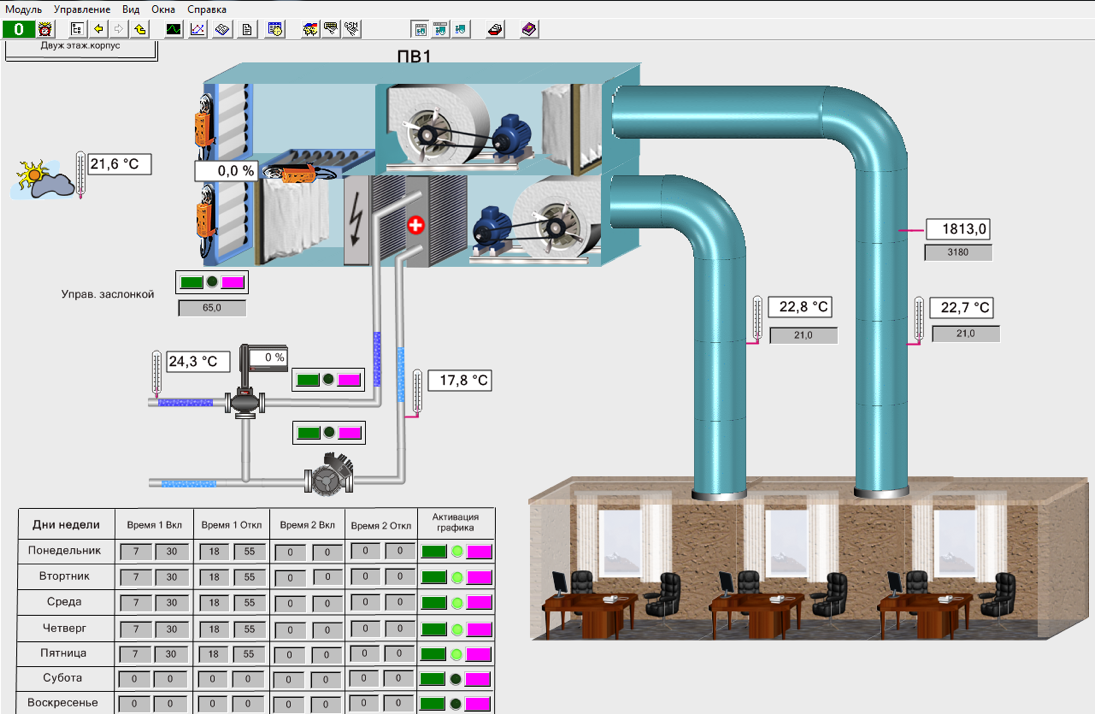 Advantages of building engineering monitoring systems

Data received and processed by the dispatch system is compiled into messages of various types, which then are archived in long-term storages. Reports are generated on the basis of this information, available at any time.

A dispatch system offers key advantages when controlling a facility:
continuous centralized control of engineering systems;
prompt response to emergencies;
reducing the impact of human factor;
optimizing the document flow and reporting system.
Along with regular systems, our company offers dispatch systems with 3D visualization based on the new-generation solution GENESIS64.

This is a fundamentally different level of dispatch monitoring, allowing an operator to see a realistic image of a facility with all parameters related to particular units. A dispatcher may change, in an interactive mode, detailed depiction of visualized facilities, removing elements of buildings or installations and viewing them from the inside. 3D visualization allows virtual navigation inside depicted facilities, offering means of animation and dynamics of volumetric images and other advantages of 3D technologies.

Another object of pride of our team is the ability to project and implement large-scale, widely-scattered dispatch systems allowing for not only collection of data from remote facilities but also distributed computing, multi-tier archiving and backing-up.